Its October and nothing in SC feels like Fall. Its highs of 95 and lows of 70 at night. I know soon..well I hope SOON ..it will be feeling like the trees will be changing color and I'll actually need a sweater. Trying to be patient though..it's coming!
While I wait, I think of all the flavors that make it feel Fall in my thoughts and mind… Apples, pumpkins, caramel, cinnamon…ya I dream of it all. I pulled out my grandma's recipe box this summer (does anyone know what that is?? ha ha) and was looking at all her little cards hand written of recipes that she made, or wanted to try. Many of them were not even in her handwriting because neighbors, friends, ladies at church would all ex change recipes. There are even newspaper clippings of recipes from the Sunday newspaper! Its like a little box of history, and the stories those little index cards would tell.
I think we have evolved in the food industry, there isn't an ingredient we can't get our hands on and they are always coming up with new ones. Have you bought sugar lately?? Sugar isle is almost full length now. With all the different kinds of sugar… coconut sugar, artificial sugars, beet sugar, monk sugar…can I just have plain sugar please?? HA!
So I just wanted to make something simple, not fancy but celebrated REAL ingredients and I found her apple cake recipe. The only thing I did different was I did not include the raisins. I'm not a fan of anything that could look like chocolate in a cake or cookie to only bite into it and find out its not! Can't handle that! I used apples that were picked in an orchard here in SC along with pecans. The best thing about this cake, its so moist and lots of flavor..all you need is cinnamon whip cream or scoop of ice cream to go with. Old fashion..well it usually means simple and honest. I like that!
Happy Fall baking, make something that makes you feel warm and cozy inside..even if its hot out!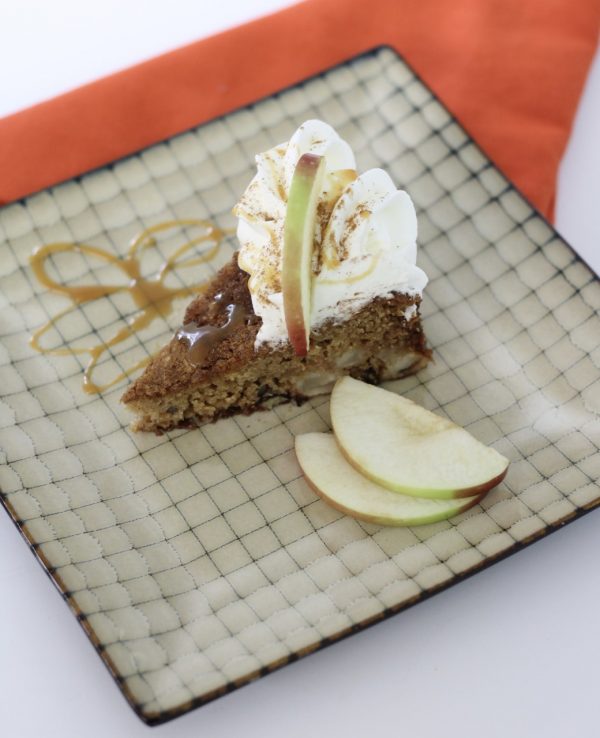 | | |
| --- | --- |
| | |
1. Combine all your dry ingredients and whisk or sift to combine 2. Cream your butter and sugar 3. Add your egg and vanilla and mix well until light and fluffy 4. Add your dry ingredients, pecans and chopped apples an mix until its all incorporated. DO not over mix 5. In a well grease 8 inch pan, add the batter and smooth it all out and bake until toothpick comes out dry. Serve warm with cinnamon whip cream, or vanilla ice cream. I like to drizzle with caramel topping as well! 🙂 Cinnamon Whip Cream: Whip cold cream with the sugar and cinnamon until soft to stiff peaks. You can do this with hand whisk or whisk attachment on mixer.