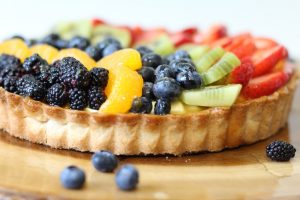 Summer, oh how we long for it..cant wait for it and then it arrives with 98 degree weather and it leaves me tired..unmotivated and dreading the very thought of going outside. In the winter and spring months I day dream of all the exciting things Im gonna do when summer is here…beach, swimming, evening walks, grilling, berry picking, gardening, and on and on. BUT all I dream about now  is..what can I do that involves air conditioning????? and lots of it! Am I the only one?? I feel so weak, that I let the heat drain me of any aspirations of doing things to enjoy. I mean Its taking will power!
Anything in life thats good, requires will power, I find the more I know I need to do it, the less my body wants to do it. I have to PRAY for follow through, and tell my body to shut up and move!,  Any witnesses??
There is a farm where my daughter works at that has BEAUTIFUL berry patches, of strawberries, blueberries and blackberries, I mean its so cool! I have been making my mind up that I NEED to endure the heat and pick berries for many reasons. One, I really do love it, its therapy for me. You see when I was little, I spent my summer months with my grandparents and that's all I ever did was pick berries, lots of them, raspberries, blackberries and blueberries. Its very nostalgia for me. Second, its the best way to support local farmers, third the berries are soo sweet and yummy and there is a ton of things you can do with them! Canning, baking, salads, on and on!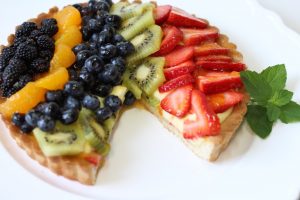 Which brings me to this beautiful, elegant and so very delicious summer dessert that you can make to wow your friends and and family with. I love how it showcases summer in a beautiful way! There is not a lot of baking to be done, just the simple cookie crust, and you can make it ahead of time and freeze and pull it out for the day you want to serve it! I cheat with the custard filling…I mean who really wants to stand at the stove and cook, and the best part no one will know you cheated!! 🙂 The custard filling is a light dreamy combination of pudding and whip cream! The tart pan… you need to get if you dont have one!  Here on Amazon 
So I am gonna remake my list of things I must do this summer, no matter how hot I am and drained I feel. I am thinking going often to get snow cones…it is a must, experimenting with recipes that involve all the beautiful produce I am going to get local, and I will go see a few movies in the air conditioned theaters..ya thats happening! The Beach… some how I will get here too~
Happy Summer Baking~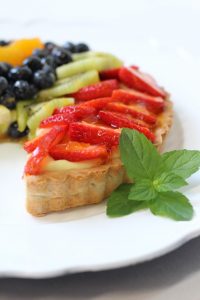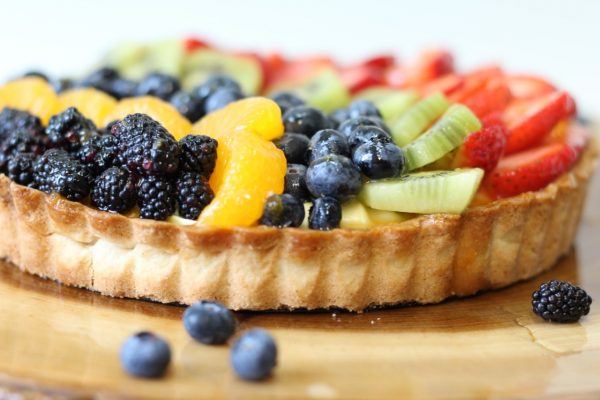 | | |
| --- | --- |
| | |
Crust: Cream sugar and butter til smooth. Add egg and vanilla and mix until incorporated. All dry ingredients and then on flour surface knead the dough a few times until its smooth and roll 1/2 inch thick and line a greased tart pan with it. Chill the crust for and hour and then bake 350 for 20-22 minutes until its golden Cool

Filling: Combine milk and instant pudding and mix well. Chill for 30 minutes While its chilling, whip the heavy cream imntil stiff, and then fold in the pudding mix and gently combine both the whip cream and pudding. Fill tart pan with cream and arrange the fruit as you wish