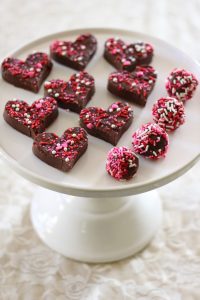 So, it's that time of year when we start  thinking about all the people we love and how we can express that love. I personally enjoy making things to give out, rather than purchasing candy or treats. Its more from the heart type of thing, ya know? I do want it to be easy though and NOT complicated..because I don't have time for that..I mean who does?
Update with our journey with my daughters diagnosis with Celiac's..its been quite the trip thus far. A lot of bad days and some good. Let's face it, food encompasses every aspect of our lives and you'd be lying if you said any thing different. It affects our social life, our financial life, every part of the day to day life. If you feel healthy, life seems easier but if your always feeling sick…this is something that lingers. You can find foods that are gluten free, yes of course. But food that feeds your soul, well that's more complicated. What do I mean by that? You know food that grandma made, or food that mom makes on a rainy day, or for holidays..that kind of soul food. We are recreating our "NORM" in our home and rewriting it can be depressing at times, but I'm determined that gluten does not have to trump all..I will find foods for her that make her feel like she never has touch gluten again to be "normal"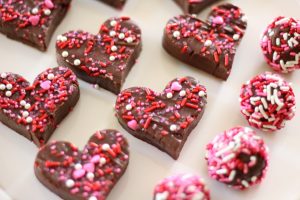 So lets talk chocolate. Gluten free right? Wrong! There are a lot chocolates out there where they are manufactured in factories where gluten products are made, thus being UNSAFE to eat. UGH…BUT  I did find that Toll House Chocolate Chips say right on the bag GLUTEN FREE AND SAFE! Can I get an amen? So YAY for chocolate chip cookies and this brings me to fudge. This fudge is actually the fudge my mom has made all my life growing up. I just substituted to use gluten free safe brands to make it successful for us now. Its going to be a great treat for a friend, family member that is gluten free lifestyle to enjoy, but everyone else will eat it and NOT EVEN KNOW! YAY! How awesome is that?? I want the to rid the bad rap no gluten foods have, and create an experience where "oh that's gluten free??" doesn't even come up. So its up to you, to even bring up that fact this this amazing fudge is gluten free…maybe that can be the "extra" fun fact about it as they are drooling over how soft and creamy it is!
This recipe is, yep you guessed it EASY! The only special thing you need is a make shift double boiler to melt the ingredients in. All it is, is a bowl, over a pot of water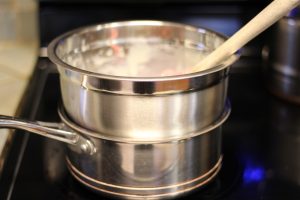 You combine your 2 cups of semi sweet (good quality) chocolate chips and condensed milk in the double boiler and on med heat, stir until its melted, then spread in your greased pan and CHILL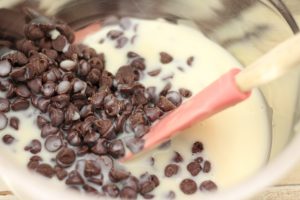 This recipe is fun cutting  into heart shapes. You can get as creative as you'd like with packaging for gift giving. The scrap pieces that are left over from the cut out, you just roll it up, toss in sprinkles and VOILA chocolate truffles! Yay this is so much fun!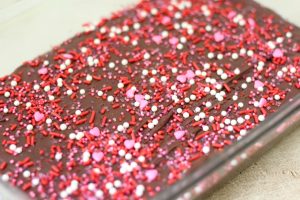 Mom's Fudge
( gluten free style)
2 cups semi sweet chocolate chips ( TOLL HOUSE IS GLUTEN FREE, but you can use any brand if thats not a concern)
1 can Eagle Brand Sweetened Condensed Milk
Sprinkles ( ours are G/F of course)
8×8 pan lightly greased
cutter is you'd like to use to cut shapes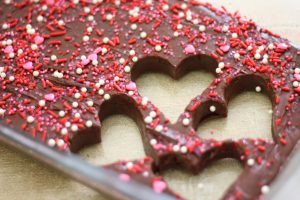 Happy Fudge making!!