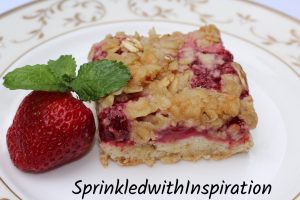 In the month of May, I have had the tradition for the past 6 years to go pick strawberries here in NC. There is something about going into the large fields of green and hunting for that perfect strawberry, the reddest and largest ones you can find. It's like therapy for me. Sadly, this year season came very early because of our warm winter, and I didn't get a chance to go. So, you know next year I will be all over it! I did however, get a change to buy local strawberries at a produce stand and I made some of my strawberry favorites. I will be posting some of them in the next month.
This is a quick and easy strawberry packed dessert bar that is great for potluck, cook outs or picnics! You can substitute the fruit flavor as well. My grandma always made them in cherry. You could do blueberry, peach and raspberry would all be so delicious!
Check out last years post on my strawberry adventure!
Strawberry Crumb Bars
Print here: Strawberry Crumb Bars
By Sprinkled with Inspiration
You need:
1 box of dry cake mix, vanilla or yellow flavor
1 can of strawberry pie filling
2 cups fresh strawberries, cut up into slices
1 ½ cup old fashion oats (divided)
8 Tbsp. soft butter(divided)
½ cup brown sugar
1 egg
½ cup chopped pecans (optional)
Directions:
Spray a 13×9 pan with nonstick spray
In a bowl, combine cake mix and 1 c oats, reserve 1 cup of that mixture on the side
Add 6 Tbsp. soft butter and egg. Mix until combined and press into the bottom of pan, making sure it is firmly packed
Combine pie filling and berries in a bowl and then spread over the crust
Add to the 1 cup reserved crumb mixture, the brown sugar and 2 Tbsp. butter. Mix well and crumble over the top of berry filling
Bake 350 for 35-40 minutes
Cool and ENJOY!