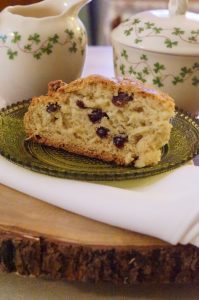 It's almost St. Patrick Day and that means I am making a batch or 2 of Irish soda bread, and getting a corn beef roast and cabbage for a big meal. I am not Irish; my husband says he is so we just make the meal because it's fun and delicious, even if we have no real reason the celebrate!
I never really liked Irish soda bread until about 5 years ago, when I decided that I wanted to play around with different recipes.  They always seemed so dry and tasteless. So many batches later I was able to find one that I can say is soo yummy! I make it with and without raisins. My family is not big on raisins. So, I make a plain one and they love to eat it with just real butter. I end up eating the raisin one because to me, it's got to have raisins.
So, if you want to make an Irish favorite and pretend you are Irish for a day, try this EASY recipe! Oh by the way…It pairs wonderfully with tea for an afternoon snack as well!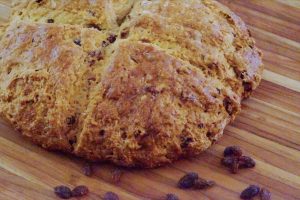 Irish Soda Bread
3 cups sifted all purpose flour
4 Tblsp sugar
1 tsp baking soda ( make sure its fresh)
1 tsp salt
4 Tblsp cold butter in chunks
1/2 cup raisins ( optional)
1 1/2 cup buttermilk ( store bought)
Combine all dry ingriendients
Cut in butter into the dry ingredients until until it look like coarse meal
Add raisins and buttermilk and WITH YOUR HANDS, mix it until its combined and then knead into a large ball
On a floured surface flatten the ball with your hand until its 2 inches thick, then with a knife score an X over the top.Place on a sheet pan, brush with an egg wash and bake  375 35-40 minutes
Serve warm!