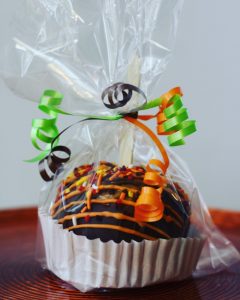 Its not Fall unless you have a Caramel Apple. Well, that's at least my philosophy!I have been making them for years, and every year I get family and friends asking when they can get theirs. I have given them away for gifts, so they know the drill! There is just something about a crisp apple with sweet caramel and chocolate that makes you happy! Never mind the fact that I DO NOT feel guilty eating them..because I am eating my fruit for the day!, right? HA! Ya, I wanna eat all my healthy food this way…side of caramel with that please!
I have made them different ways, and honestly I keep going back to the one way that is fail proof every time.I love fail proof..I need that in my life! Having said that, I dont make my caramel from scratch anymore..I know, its ok..dont be too surprised! Kraft makes a killer caramel, that is the best as far as I'm concerned and its in every batch of caramel apples I make now.
These apple are easy to make…I promise! Once you read my tricks, and make them one time, you will be hooked! Make them any time of year! I make them festive for Christmas and then, colorful for Birthday gifts as well. Sky is the limit!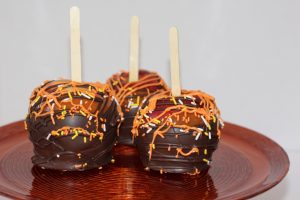 Ok, so here is tips to put into use:
Apples: Use crisp sweet ones. Granny Smith, Gala or Honey crisp is the best. Wash them with a new green scrubby to get all the wax off that is on them. If you dont try to wash off the wax, when you dip into the caramel it will slide right off! Let them dry completely before dipping them.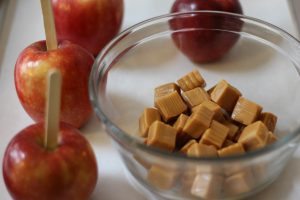 Caramels: KRAFT makes a great caramel! Make sure to microwave them 1 min at at time and stir or they will burn
Chocolate: There is many different kinds, but you should use chocolate melts. I get mine from AC Moore, but you can get them at Michael's as well. Again, microwave at 30-50 seconds at a time, stir, repeat. If you do minutes at at time you will burn!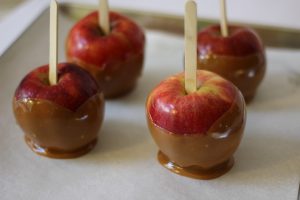 SPRAY: spray wax paper or tin foil so caramel doesn't stick to pan after you dip the caramel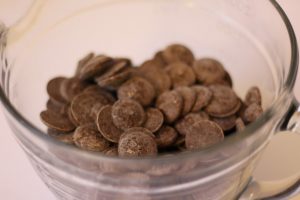 Refrigerate: In between steps, refrigerate! Important!
So here is what you need:
Apples 4-6 makes I bag of caramel
Popsicle sticks
Sheet pan lined and sprayed with baking spay
I bag Kraft caramels, unwrapped in a bowl ( microwave proof) with 2 tablespoons of water in it
12-16 oz chocolate melts of choice, in a bowl ( microwave proof)
Sprinkles, m and ms, crushed Oreo cookies, toasted, chopped nuts, ANYTHING YOU LIKE
Wash apples and let air dry
Melt caramels and IMMEDIATELY dip the apples. Refigerate
Melt the chocolate and dip away! Drizzle extra on and add your toppings
Refrigerate and then wrap if you'd like!