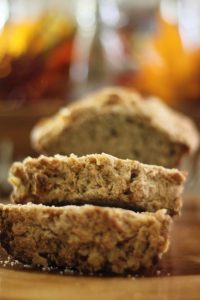 I must say the Banana Cinnamon Crumb Bread recipe is popular one in my house. It is the one that is most requested all though the year. Snack time, breakfast treat, gift giving..it's all that!  My kids like me to add chocolate chips, I like it with pecans and my husband likes it plain..ya, so you can see I make different batches right? I keep frozen bananas in the freezer to have on hand for anytime I want to make up a batch at a Wim.
I love to have great go to recipe for quick breads. They are my favorite items to make for gifts. I enjoy making them and wrapping in a festive dish towel to give as a hostess gift or a teacher gift around Thanksgiving or Christmas. This Banana Cinnamon Crumb Bread is at the top of my list for that! I am mean who doesn't like Banana Bread?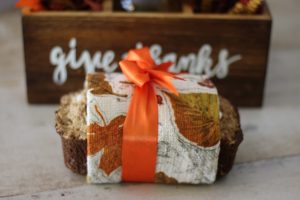 You can change this recipe up and be creative as you'd like. I added pecans, but you can add any nut of your choice or how about mini chocolate chips or toffee bits?
You can omit the cinnamon crumb topping and just sprinkle with sugar in the raw for a sugar top crust. No matter your combination, it's fun and easy to make!
Recipe Here:
Banana Cinnamon Crumb Bread
2 cups AP flour
¾ tsp baking soda
1 tsp salt
1 cup sugar
¼ cup real butter, soft
2 eggs
3 large bananas mashed (RIPE)
½ cup sour cream
1 cup chopped, toasted pecans
Topping:
½ cup quick oats
½ cup AP flour
¼ cup brown sugar
1 tsp cinnamon
2 TBLSP soft butter
Preheat oven 350 and grease one loaf pan
Cream butter and sugar until light and fluffy.
Add eggs and mix, scraping down the sides to make sure it's all combined
Add bananas and mix
Add all dry ingredients and then fold in sour cream until all is combined and smooth, add the nuts
Pour in greased prepared loaf pan and make crumb topping
Combine all ingredients for topping but just until it comes together ( I use my hand for this) and sprinkle on the top of the bread
Bake 50-55 minutes, but test it with tooth pick, it might take longer.
Cool completely and then ENJOY