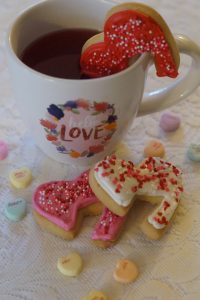 I love making Valentine treats. I like to create baked items that are easy, but a little different and special. I saw this heart cookie cutter at World Market last year and knew it would be a great cookie to make for tea or coffee at Valentine's time of year.The cutter is designed for the cookie to sit perfectly on the rim of any mug or tea cup, HOW CUTE! You can make them and package them up to give with a Starbucks gift card, a box of tea or just have a friend over and enjoy them. I use my favorite sugar cookie recipe, but store bought cookie dough will work! Use my royal icing recipe so the icing gets skin on it and you can package the cookies. Have fun with colors and sprinkles, don't forget to dip the cookie when you eat them! The best part! 🙂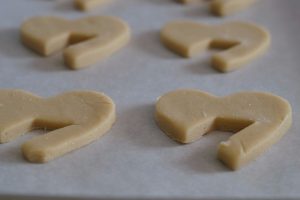 Sugar Cookie Dough
4 cups flour
1 tsp baking powder
1/2 tsp salt
2 eggs
1 1/2 cups sugar
2 sticks butter, soft
1 tsp vanilla
 Cream Butter and sugar until light and fluffy
Add eggs, vanilla and salt
Add dry ingredients and mix until just combined
Roll on floured surface and cut out cookies
Bake 350 for 12-14 on a parchment lines cookie pan
Royal icing
4 cups Confectionery sugar
3 TBSP meringue  powder ( baking section at any craft store)
Add water to consistency you like. I start with a 1/4 cup, mix by hand or in a mixer
Add a TBLSP at a time to get it as thin or thick as  you like.Keep in mind if its too thin, it will drip off the cookie.
Add food color, 2 drops at a time.
Keep frosting covered up as you decorate, it will dry out.
Decorate and have fun!