In the winter months I love making soups..a lot. It's comforting and it warms my soul! I have been known to make them 3 times a week, but mostly I try to keep it to 1-2 times weekly. I like to add a side salad and bread to keep it interesting and filling. One of my favorite bread type items to go with soup are my savory ham and cheese scones. I use these also if I'm doing a tea luncheon as well, to serve with a fresh garden salad. They are light, fluffy and delicious!  I serve them with whipped butter and you could even make an herb butter to make it more fun! You will loves these..and you can't eat just one!
Happy Baking!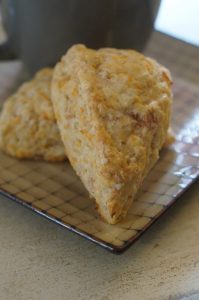 Savory Ham and Cheese Scone
2 cups AP flour
1 TBLSP baking powder
½ tsp salt
¼ tsp pepper
2 TBLSP sugar
3 TBLSP COLD butter
¾ cup of real buttermilk ( not low fat)
¾ cup shredded cheddar cheese
½ cup fine diced ham
2 egg whites (plus 1 egg for egg wash)
Combine all dry ingredients and cut in the cold butter and break up until it looks like pebbles in the flour
Add the buttermilk, cheese, ham and egg whites and mix with your hands, careful do not over mix.
Once combined put on floured surface with a little flour and pat into a round disk, about 8-9 inched round.
Cut intonto triangles, and brush with a beaten egg for egg wash.
Put on parchment lined cookie sheet and bake 400 degrees, for 16 minutes or until light golden brown coloe
ENJOY!