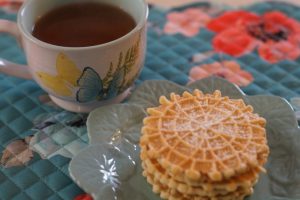 Pizzelles, have you heard of them? They are an Italian tradition. I know if it weren't for my grandma I don't think I'd ever had the privilege to enjoy such a simple, yummy treat! Made for centuries in the Italian culture, it is said that you will not go to an Italian wedding and not see them on a sweets table. Whenever I miss my grandma, I pull out my pizzelle maker and make a batch!
I invested in a a pizzelle maker for $45 on amazon. I must say that when I make these they are GONE before the batter is finished off baking. My family loves them and if I can, I make enough to have extras because they freeze wonderful!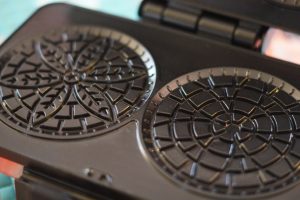 The batter consists of 6 ingredients that you bake in a pizzelle maker. The pizzelle maker resembles a waffle iron, but it has a lace look design and they are very thin. The authentic flavoring is an anise extract, but I love to do them in lemon. I incorporate lemon zest and extract in the batter and its comes out to a light crispy lemon waffle like cookie.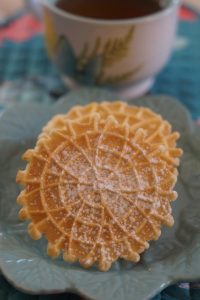 You can serve them with ice cream, make dessert sandwiches with them with fresh fruit and whip cream or even cannoli filling!
You will love!
Lemon Pizzelles:
3 eggs
3/4 cup sugar
3/4 cup melted butter ( use butter, not margarine)
1 1/2 cups all purpose flour
1 tsp baking powder
zest of 1 lemon and 1 tsp lemon oil or extract
In a bowl, bleat the eggs, sugar, butter, zest and extract
Add flour and baking powder and mix until combined
Preheat pizzelle maker and  drop 1 tsp per pizzelle.( I lightly spray mine before, but you don't HAVE TO.) Close the lid and put timer on for 1 minute.
Be sure not to over cook them, or they will get too dark and hard.
Store in air tight container or freeze up to a month.