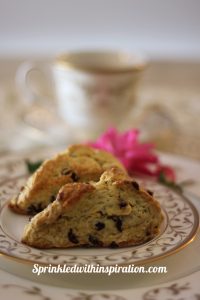 If you don't know me (and chances are pretty good you don't) let me just say that I'm a little crazy about scones. I love all things baked, but it's the idea of a warm scone and cup of tea that warms my heart. I have been visiting tea rooms all over east coast for the last 15 years and the one thing I'm always most excited about is, what their scones will be like. I have enjoyed so many different flavors and kinds!
I have been a mission through the years to come up with my own style and type of scone that I like to make and serve..kind of my "signature scone" type of thing. The Cranberry Orange one is just that. If you ask any of my friends, they will tell you that it's what I usually always make for them!
The secret to make this so flavorful is to use lots of orange zest. Hard to say how many oranges because all vary in sizes, but I'd say 3-4 oranges. Soak the dry cranberries in hot water for an hour to re hydrate and then chop them to smaller pieces. AND OF COURSE, the butter must be oh so very cold!
So warm up the oven and get your hands dirty with some flour and then relax with a scone and cup pf tea and take a mental vacation for a bit!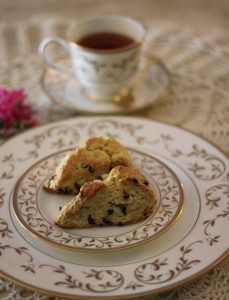 Deb's Cranberry Orange Scone
2 cups A.P flour( plus ¼ cup for floured surface to kneed on)
1/3 cup sugar
1 tsp baking powder
¼ tsp baking soda
½ tsp salt
3 TBSP orange zest
1 stick ( 4 oz) COLD butter
½ c  hydrated, chopped dry cranberries
½ cup buttermilk ( real buttermilk)
1 egg ( plus 1 for egg wash)
1.Preheat oven 400
Combine flour and all dry ingredients
Cut cold butter in cubes and with your hands work the cold butter into the dry ingredients until it looks like small pebbles
Add zest, cranberries, egg and buttermilk.
Kneed with your hands only until its combined and smooth but not over worked!
Flatten to a round disc about 1 inch thick and cut into triangles and put on a lined baking sheet
Brush the scones with egg wash and put right into oven and bake 15-20 minutes until golden
**Egg wash is an egg beaten and all combined so you can brush it