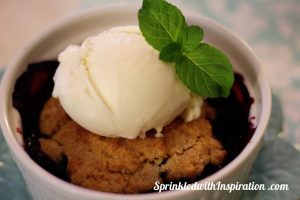 Blackberries are very nostalgic for me. As a little girl, I spent the summer months at my grandparents. They were very old school, so there was no form of entertainment but the good ol outdoors!  There where two places you could be. Kitchen with grandma while she cooks, cans and bakes or outside with grandpa as he tends to the garden all day long. I was a girly, girl so you know getting dirty in the garden was not an option. However, I did go with my grandfather on hikes to go find and pick blackberries and raspberries. The horns were so unforgiving .. but we picked the biggest, sweetest berries you will ever see. Grandpa was so very patient. He made sure we were going back with full buckets.. so my grandma could make blackberry pies.. that was the ultimate!
I did not take after my grandma in the pie department. Sad to say, but I make blackberry cobbler and it stirs up all those memories of eating warm blackberry goodness. That's what childhood memories should be made of.
My grandparents are with Jesus now and there are times I miss them so.. but this time of year I hit up the fruit stands for local, perfect handpicked berries and make my cobbler.  The smell and taste of them make me feel so very close to them.
Serve this cobbler warm and  with ice cream and you will be won over! I promise!
Recipe Here:Blackberry Cobbler
Blackberry Cobbler
Topping:
1 ½ cups AP flour
½ cups brown sugar
¼ cup sugar
1 ½ tablespoons baking powder
Pinch salt
1 stick butter cut into pieces
1/3 c boiling water
Filling
6-7 cups blackberries ( fresh or frozen)
¾ cup sugar
2 tablespoons lemon juice
2 tablespoons cornstarch
Preheat 375 oven and spray a 13 x9 dish with pan spray
Combine berries and and filling ingredients and toss well. Pour in th 13×9 dish.
In another bowl, combine all ingredients for topping except water and butter.
Add the butter pieces and mix with your hands until it looks coarse like pebbles.
Mix in hot water, combine all together and spread over berries
Bake 40-45 minutes
Serve warm!